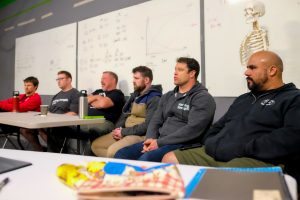 Hello, my name is Marvin and I'm a Starting Strength Coach (SSC) based in Singapore. I'm proud to be one of only five people in Asia with this credential. Legend has it that its passing rate is 15% and I happen to be in that group on my first try. In this article, I will be writing about my trip to Denver, where I passed the coaching platform evaluation during the Starting Strength Seminar. If you want to know more about the preparation before the seminar, I'd suggest reading the previous articles: part 1, part 2, and part 3.
I hope you enjoy this article!
"If you fail, don't be disappointed"
Patrick is a member at our gym and a very good friend of Shaun, my mentor. A few days before my trip, Patrick was training in the gym and knew that I would be flying to Denver to attempt the Starting Strength credential very soon. Before he left the gym, he gave me an advice that I remember till this very day "If you fail, don't be disappointed."
It's not your ordinary encouragement like "you can do this" or "all the best" but there's a tough truth to his word. To anyone attempting the SSC credential asking for one last tip before going to the seminar, I'd gladly offer the same advice.
Patrick and Shaun have been friends from before Shaun started as a personal trainer, doing kettlebells and programming burpees. Patrick has personally witnessed how how tough it was for Shaun and the amount of work he had to put in before earning his SSC credential on his 4th attempt.
The platform exam tests your understanding, teaching ability, coaching eye, and your ability to coach the lifts. The absence of any single component will not grant you a pass. During the platform evaluation, candidates will coach 5 different lifts to 5 different people – some say that the candidates will get the more difficult lifters to coach. If you don't pass, no hard feelings. Improve and try again.
Jetlag and Nervousness
My trip from Singapore to Denver took 27 hours and 40 mins, which included a 5 hour layover. As soon as I boarded the plane, I started to adjust my body clock to account for 13 hour time difference between Singapore and Denver. I immediately set my watch to Denver's timezone and scheduled my sleep based on the destination's time. I finally arrived in Denver at 1:30 pm on Thursday, the day before the seminar. Apart from having my meals, I stayed in the hotel to rest and only went to the nearest Target to stock up snacks and food for the next few days. I tried to sleep earlier that evening to get more rest but kept waking up every hour. Falling asleep has never really been a problem for me so I guess it was a combination of the jet lag and nervousness.
The funny thing was that I was more nervous about driving as compared to attending the seminar. HA! I mentioned in the previous article that I don't drive in Singapore – now the next challenge was that I need to drive and do it on the "wrong" side of the road. Anyways, I took some motion sickness pill that evening so I could sleep slightly better. Make sure you have plenty of rest before the seminar and every night.
Fanboy experience – Wow, I finally meet Mark Rippetoe!
After coming back from the seminar, the most common question I got asked was "How's Rip like?"  Let me tell you. He's exactly like the guy that you see on YouTube: loud, one-of-a-kind sense of humour, and no bullshit.
The first day of the seminar started at 5 pm – I arrived at the gym about an hour early and there were already a few participants and SSCs around. The seminar staff for that seminar were Nick Delgadillo, Andrew Jackson, Brent Carter, Michael Wolf, and Phil Meggers. A few other SSCs, Mia Inman and Jayson Ball, were also there to audit the seminar. It was an exciting experience to meet them in person after watching their videos for a few years, even before I even wanted to become a coach.
What's cool about the seminar is that you will have the chance to be coached by Rip! He will go around the room and coach everyone on their last last working set. It was quite a show! You can hear him saying "hip drive" ( read as "heep draaaahvee") live. Hahaha. On the last day, he signed my Starting Strength book and we took a photo together. However, the most memorable part was when he told me to gain weight! I was 67kgs then, and he wanted me to become 83kgs – and increase of 16kgs so I would have a better chance of becoming a decent lifter.
Opting-in
On the first evening, Rip welcomed us to the seminar and talked about the schedule for the next three days. He was also talking about the SSC credential and setting the expectation for candidates who wanted to take the platform test. There's an additional US$200 cost to opt-in, which I think is fair because of the amount of work the staff coaches need to put in to evaluate you. They will write an evaluation for your coaching and provide feedback for your five lifts as well. If you pass the platform, they will also conduct the interview and grade your writing exam.
There's no practical portion on the first day. That evening, we covered human physiology related to strength training, moment arm analysis and the fundamentals of coaching to prepare all participants to both lift and coach. Yes! Everyone will coach! When one teaches, two learn.
Seminar structure and platform test
The action began the next morning at 7. We started with the squat lecture, which was followed immediately by the practical portion. The seminar is the perfect course to understand the five lifts if you are a casual Starting Strength fan. However, you should already understand all of the materials presented if you are coming to obtain SSC credential.
The practical portion began with the staff coaches demonstrating the teaching progression of the lift. Thereafter, everyone broke up into groups of 5 with a staff coach attached to each group. The groups will be assigned randomly, so you wouldn't know who you will be coaching that day. If you are a candidate, you would most likely go first in your group to coach. This way, non-candidates have more time to see how you coach. Everyone will take turns to both coach and lift – person 2 will coach person 1, person 3 will coach person 2, and so on.
Everyone will have a ballpark figure off what their working weight will be and from that figure, calculate their warm up weights. If your lifter is not familiar with the Starting Strength method, I suggest communicating more with them and advising them to not go too heavy too quickly and risking them (and yourself) not being able to fix their lifts. Give them advice and treat them as you are coaching your new clients. With this, of course, you must take full responsibility of your lifter because they paid the fees to be coached by an SSC. If you are not able to coach on a level that is on par with an SSC, they will take over your lifter and that's not good for you.
I was sure that I didn't perform well during the squat. My lifter increased the weight too quickly for the 3rd warm-up and a lot of errors started popping up that I couldn't fully resolve. She began to feel frustrated, and so did I. Luckily, after that, we spent some time in between sets to discuss and to let her know what cues I will use. We maintained the weight instead of going up, and she lifted each set better and better.
I texted Shaun after that day and was quite sure that I had already failed. I think that was a real close one. Squat was the first lift and I was very nervous. Thankfully it got better after squat.
How to pass the platform?
Brent Carter, owner of Starting Strength Dallas and also the staff coach that weekend, talked on Facebook regarding the passing criteria of the platform evaluation. I strongly recommend you to listen if you are a candidate. Let me summarize it here.
There are four components of coaching: understanding, teaching, evaluating, and communicating. It all starts by having an understanding of the model. Specific to the Starting Strength model, begin by reading the book and utilize all available resources, whether it's content on YouTube, articles on the website, or even Q&A in the forum. At the same time, train! You lifting experience is something that you can't get just by reading or watching someone.
The second component is teaching. For a mature model like Starting Strength, this might be the easiest to master because the teaching progression is more or less there. Sometimes, people memorize the sequence like I did when I started my internship to make sure nothing is left out. However, beyond just mantra, you should be able to identify the deviation once it arises.
The most technical component might be evaluating. You are coaching live, and you are given five reps in a set. Every rep lasts for three seconds, and you can't replay. Are you able to tell what's going on? What's the error? And why? What if there are multiple errors? Which one to fix first?
Lastly, you need to communicate with your lifter. During the set, you interact with cues, whether verbal, tactile, or visual. Remember, the rep ends every three seconds. You need to deliver it fast, and it needs to register as quickly to the lifter. "Hey, you should try to shift your balance a little bit to your heels" is a terrible one when you can just say "on your heels". However, the essential characteristic of a cue is that it solves the issue. If it doesn't fix anything, change it. Remember, five chances!
Thank you for reading! If you are planning to take the certification, I wish you good luck! I'll continue the final part next month to discuss the interview process and the written exam.