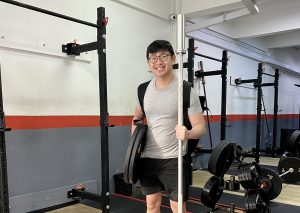 Hello, my name is Marvin and I am a Starting Strength Coach (SSC) based in Singapore. I am proud to say that I am one of only five people in Asia with this credential. Legend says that its passing rate is at 15%, and I happen to be in that group on my first try.
If you have yet to read the first part of the series, click here. In this second part of my Road to Becoming an SSC, I will write three short stories. From getting my first client to finally resigning from my full-time job to become a professional strength coach.
Getting my first client, Mary
By March 2018, I have been following Shaun for almost four months. Twice a week from 7 am to his last client of the day. I coached his clients through the warm-up and sometimes for the working sets as well. I felt that I was getting more comfortable coaching the model and also answering basic questions about training.
One day Shaun mentioned that he had a prospective client that might want to train under me. Mary was a very cheerful lady that came to a lifting talk the month before. She understood that I was very new to barbell coaching, and I was still doing this part-time. We agreed to adjust her training schedule based on my availability. However, she had a special request to have Shaun around during her training sessions. I believed that it was a fair request considering my lack of experience at that time.
I believe the sessions went quite well. After all, Mary was able to pick up the technique pretty fast. I, however, made several mistakes that a beginner coach tends to make, OVER-EXPLAINING.
I wanted to make sure Mary understood every single bit of the theory (that I knew) about the lifts. I guess that I felt insecure about not knowing enough so that I wanted to show that I understand what I was doing. Shaun noticed this, and he asked me to re-write what was essential in teaching the lifts. I argued that those things that I explained were important in understanding the lifts. Still, his response was not all the important things that are essential on day one.
During the first one hour session, the lifter needs to execute 3 to 4 new movement skills. We want to ensure that:
1. Precision – you can immediately perform the movement as close as possible to what I want as a coach, and
2. Repeatability – you can show the same technique again for the next set and the next workout.
Adding ten more sub-details in every lift can bring you slightly closer to perfect technique, but it tends to make it much more difficult to remember. For example, if there are two main takeaways from the first day of the squat, it should be the correct bottom position and the hip drive. Even if your wrists are slightly bent or you keep forgetting where to breathe, it is okay! There are more critical things to worry about now.
I am sure this will be one of the most memorable experiences when starting as a coach. I am telling you a story of why my ex-client called me Wukong (Son Goku in the Japanese version). For those who are not familiar with this story, Wukong was a monkey God that accompanied a Buddhist priest on his trip to bring back sacred scriptures from India.
At that time, I was still working for my previous company and coaching part-time. Shaun offered me a new client who wants to train at his home – a gentleman in his 70s. I took the opportunity because I wanted to have more experience coaching older clients and to earn something on the side. However, there are two problems here:
1. I will need to carry all of the training equipment to his house and bring it back to the gym because we need the bar and the weights for daily use in the gym.
2. I didn't drive, so I need to take either a train and bus to get to the location. Yes, I can practically grab a taxi there, but I would make almost nothing from the session.
So my routine starts the evening before after I finished my full-time job at around 7:30 to 8:00 pm. I took a train to the gym and reached around 9:00 pm. I immediately collected all the equipment necessary: a 5kg bar, a pair of 5kg bumper plates, and a few smaller plates inside my backpack. By that time, my bag weighed almost 15kg, and I'm holding the bar on my left hand and the bumper plates on my right (the bumper plates can't fit my bag). I took a bus and reached home at around 9:45 pm before I showered and had my dinner.
The next morning, the bus would take almost an hour to reach the nearest bus stop. From there, it was 15 to 20 minutes hike to the house 30 kgs of weights. I tried taking the train, which would be slightly faster, but the train staff didn't allow me to enter the platform because of the "bulky items." I am very sure that the real reason was that the bar looked like a weapon.
After the second session, I was allowed to leave most of the weights in his house. However, I will still need to carry the bar around every session. Thus, my nickname Wukong.
The moment I quit my full-time job
I mentioned in the previous article that I was very sure that coaching is the right calling for me since Shaun offered me the internship. I was looking out for the right time to resign. Honestly, it was scary, coming from a position where income is steady to a new profession where there is a lot of uncertainty.
The ideal scenario to resign was after getting my SSC certification. I would continue interning two days per week until I became proficient enough to take the test in a Starting Strength Seminar. Although it would take a longer time, the risk would be way less because I would have acquired the most challenging certification in the fitness industry.
I am glad that this didn't happen. At about six months after my internship, I have continuously worked without any off days. Well, even now, I am still working seven days a week. Still, the difference was as a store manager of a Japanese retail company, my shifts start at 7 am, and I usually leave work at 8pm or sometimes even later. On some days, I have what I called the "7-eleven shifts" when I practically started at 7 am and ended work at 11 pm. It was very taxing, physically, and mentally.
That day I told Shaun that I would come at around 8 or 9 am to train together. I woke up late. That was not my first time being late because of the fatigue from work, for that Shaun gave me a stringent warning. I guess that this was the first time I felt Shaun seriously upset about something.
This whole situation got thinking whether I made a correct priority for my career. I was presented with an internship opportunity from a professional barbell coach (the only one in Southeast Asia). If this opportunity goes to waste, it's practically impossible to get the same chance again. Thus, I finally decided to take the risk and take action for the long term.
Another factor that played a part was my wedding. It was four months before the wedding. I figured that if there was a chance to take a massive leap of faith, it needs to be NOW while it's just me and Isabela, my wife. Postponing the resignation means months or years longer to become a Starting Strength Coach. Once we have a child, it would be a higher risk to quit a steady job. I have a three-month-old baby now. Assuming I stuck to my "ideal" plan, I would neither be an SSC nor quit my job.
The day I informed my boss about my resignation was the day that she prepped me for the next term. She was offering me a few potential new roles when I said that I would not be with the company during the next term. A few days later, the head of operations went down to talk to me about my resignation as well. We all know the drill; they would have thought the resigning employees need to be re-MOTIVATED. They asked me to reconsider my decision, and I can pull out the resignation anytime. I didn't have any hesitation, and of course, I finally stopped working for them to pursue my goal to become an SSC.
I am and will always be very grateful for the time spent in that company. The experience there has undoubtedly taught me many valuable lessons.
As a Japanese company, there are always mottos/values that they want us to remember as a representative of the company. These few are closer to my heart and are the basis of my coaching career:
1. Have the highest standard of your work/craft. Be your harshest critic.
2. Customer satisfaction is always the main priority.
3. Be professional, stake everything on results.
I am still relatively new in this field. My two years of experience can't compare to Rip's 40 years of experience. However, whether you decide to train now or ten years from now, rest assured you will get excellent coaching with us, and we will get you to your goal.
Thank you for reading the second part of my Road to Becoming an SSC. I will write more about the experience of being a new full-time coach and my experience passing the seminar on the next one!