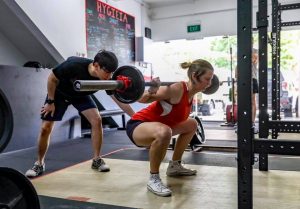 Hello, my name is Marvin, and I am a Starting Strength Coach (SSC) based in Singapore. I am proud to say that I am one of only five people in Asia with this credential. Legend says that its passing rate is at 15%, and I happen to be in that group on my first try.
This article is the third part of my Road to Becoming an SSC series. You can read part 1 and part 2 here.
Planning for the trip
By late December 2018, I have interned at Hygieia Strength & Conditioning for close to nine months and then converting to a full-time coach from September 2018. I felt that my commands in coaching had gotten significantly better. I have gained an enormous amount of practical exposure coaching lifters of different ages, sex, anthropometries, and training background, an expected outcome from working for a Starting Strength Coach every single day.
I started to think about the chances to be a Starting Strength Coach by the end of 2019. Being an SSC is the right business decision; you are more marketable and able to command a higher rate. So the faster, the better! There are already three SSCs in Asia then. I want to make sure that I became the fourth and not the fifth. The placing doesn't really matter, but the competitive side of me wanted to be sure that I was the next one who qualified.
Moreover, the preparation process to be certified can never end; you will always be able to learn something new and improve yourself. Attending the seminar in itself is a learning process. I remember Shaun mentioned that he never once went to the seminar and left without learning something new. A little voice inside me told me to be bold and try my luck there. After all, even if I fail, I can still learn something.
Of course, the rational side of me realized that flying halfway around the world and getting the certification is not free. I need to consider all the cost of travel, accommodation, rental of a vehicle, and the opportunity cost for not working for at least a full week. Ideally, getting the credential within one try is the best to conserve and maximise my resources.
Balancing these considerations, I know that I still need time to prepare but a deadline must be set – after some calculations, I settled on the middle of 2019. Soon after, I started checking the seminar schedule – typically Starting Strength releases their seminar schedule around 4-5 months in advance.
My preliminary criteria for the seminar location is the flight. I want to make sure that I don't need to transfer to a domestic flight in the USA. I've been there a few times and once almost missed my connecting domestic flight. It was stressful! This extra stress isn't helpful after a 24-hours flight when you're trying to pass a test the next day. My tip for the overseas candidates travelling to the US to attend a seminar, go for cities with international airports.
Denver fulfilled this criterion. Thus, I started to do further research about the city's weather, possible accommodations, and other places of interest to visit. The city seems lovely and the view is spectacular. I remember Shaun going there the previous year to attend a seminar for his maintenance of certification. He recommended an area to stay in and a car rental company. While on the topic, I asked his opinion of my probability of passing the seminar with five more months of preparation. His response was quite neutral, with no blatant rejection of the idea. I immediately decided, "Okay, I'm going to fly in May to Denver."
I knew that Shaun was trying his best to support me in passing the seminar within one go. Closer to the date, I felt that the "VOLUME" and the "INTENSITY" of the feedbacks were going up. A few times before the seminar, he asked me whether I deserved to pass with my current standard. Time to step up the game!
Extra preparation for the last few months
The best decision that I made five months before the seminar was to enroll in the Starting Strength Coaching Development Course. Then, the program was very new. I was one of the first few students to enter and the first SSC to be certified with the help from this program. If this program was available earlier, I would definitely have joined.
The Starting Strength Coach candidates are required to prove practical ability to coach as well as their theoretical knowledge in the mechanical analysis of the lifts. The mechanical analysis of the lifts requires candidates to have an in-depth understanding of physics, human anatomy, and physiology.
None of this information is kept secret to the public. Any candidates can acquire the book (Starting Strength: Basic Barbell Training, 3rd Edition) and enjoy all of the supplemental contents on the Starting Strength website. However, the advantage of being in the Coaching Development Course is that all the information is presented in 23 different modules, starting from the basics. Each module consists of lectures, reading materials, a writing assignment, and a coaching assignment. At the start of the course, you will be assigned a mentor that is in charge of guiding the candidates through the course and giving feedback on the assignments.
You will also have access to other SSCs and candidates within the course. Everyone communicates via Slack chat to discuss our assignments, coaching advice for our clients and even for our own training. This access was precious to me because Shaun's time was scarce – he was coaching, managing his business and caring for his 6-month old baby. I needed to be somewhat independent in studying the materials. My strategy was to keep improving on the practical skills in the gym from Shaun's feedback and the theoretical part from the guidance from the Coaching Development Course.
Is this program for every coach who aspires to become an SSC? I don't think so. This course works best if you are in the Starting Strength Gym setting. It will also be very beneficial if you don't have access to a Starting Strength Coach in your country. Let me sidetrack a little bit. It took Shaun four attempts to get his SSC credential. If this program has been around at that time, I am positive that he would have passed it much earlier.
I don't think this program is suitable for coaches who are joining for fun and hoping that the SSC credential is easier to get than published. I also think that this program doesn't work well if you don't have enough "test subjects." Not enough "test subjects" is not the same as not having enough clients. It's imperative that you have access to the correct clients who are supportive enough to help you in improving your coaching game. They also need to participate by running the whole Novice Linear Progression (NLP) using the Starting Strength method. The entire process of NLP varies from a month to a few months, depending on each person.
I would need more data for this, but I will recommend anyone to spare at least six months to complete this course thoroughly before you attend your seminar. I only had five months spent three weeks of that away for my honeymoon. Not the best. I didn't manage to finish all the modules in the course but Stef Bradford was kind to ask which part do I feel less confident. Later, she made that section available to me to study.
Extra pressure to pass
Late April 2019, less than a month before the seminar, Isabela and I just got back from our honeymoon. Her period was late for more than a week. After a further check, we found out that we are going to have a baby!
Isabela's pregnancy was exciting news for our family and us. However, I was also anxious about the financial responsibility that comes with it. Starting a brand new career that is commission based just a few months before, I was earning less than the national median income and worried about the financial costs that of having an extra member of the family.
I reopened all the expenses for my Denver trip.
Flight – S$1,665
Hotel – S$575
Car rental – S$655 (damn! so expensive)
Seminar cost – S$1,495 (including the fee to opt-in for certification which is US$200)
Total major cost – S$4,390/ US$3100
Oh no! All costs more than a month's salary! I said to myself, I better get this done once and for all.
There were many nights that I stayed up to study – I tried to read a little bit more and then a little bit more and before I knew, it's already past 3 am. My training suffered due to this – I couldn't handle the weights I was using before this period and had to adjust my programming to suit my less than optimal recovery into consideration. Naps in the afternoon were very helpful to make sure I could operate well during the evening coaching sessions. If you're also going through a period whereby recovery is compromised due to life stressors, check out this article I wrote about managing training around external stress.
I am always a believer in hard work! However, looking back, I am grateful that I had this extra push. Maybe without it, I would have been complacent and went to the seminar without giving my best. Fast forward to July 2019, the month that I passed my SSC credential was the month that I started to earn more than my previous full-time job. My income has been increasing month by month since then. So, don't worry I am doing fine now. Shaun pays me well, haha!
If you are still reading and considering to be a Starting Strength Coach, I would think that your investment will be worth it. Set your target, put in the effort to learn, and coach as many people as possible.
I happen to lucky by having Shaun as a mentor and in access to all of the clients in Hygieia Strength & Conditioning. If you are close to an affiliate gym or a franchise gym, ask them for an internship opportunity. If you are not in the proximity, join the Coach Development Course!
I'll share my Starting Strength Seminar experience next month! Stay tuned