If you're new to lifting weights and deadlifts are part of your training (as it should be), you'll probably notice calluses forming on your palm just below the junction of your palm and fingers a few weeks into deadlifting with incrementally heavier weights. At this point, you might wonder if wearing gloves can help to prevent said calluses from forming, to which we'll advise against. Wearing gloves while lifting barbells is not only a bad idea but it doesn't help prevent calluses and here's why.
A callus is an area of thickened skin that forms as an adaptation to repeated friction or pressure. When deadlifting, you'll most likely place the bar somewhere in the middle of your palm, grip the bar and proceed with your set. When you start to pull the bar off the floor, gravity will pull the bar from the palm of your hands to the location in your hand which is closest to the ground – your fingers. On its way down to that position, the bar will compress the folded skin and the skin adapts to the repeated exposure to the incrementally higher compressive stress by forming calluses to protect itself.
Since these calluses are formed as an adaptation to compressive stress, not by friction, the gloves won't make a difference to prevent them since the bar doesn't rotate in your hands during the deadlift.
Another reason why we don't recommend gloves is that it makes a heavy barbell even harder to hold on to. All good 20kg barbells have a shaft diameter of between 28-29mm, which makes the circumference of the shaft between 87mm and 91mm.


A quick search online will yield a whole bunch of gloves marketed for lifting weights. These gloves come in a variety of thickness but for the sake of our argument, we'll use the thinnest pair we could find – 2mm. The barbells at our gym have a 29mm shaft diameter, which translates into a 91mm circumference (fig. 1). Even if you were to use the thinnest pair of gloves with the barbells at our gym, you're effectively increasing the shaft diameter to 33mm, which translates to a circumference of 104mm (fig. 2). That's about a 14% increase in circumference, which might not sound like much but ask anyone who has deadlifted heavy weights with an axle bar and they'll tell you that the thickness of the bar matters. By unnecessarily increasing the circumference of the bar by wearing gloves to deadlift, you're making the bar harder to hold on to when it gets heavy.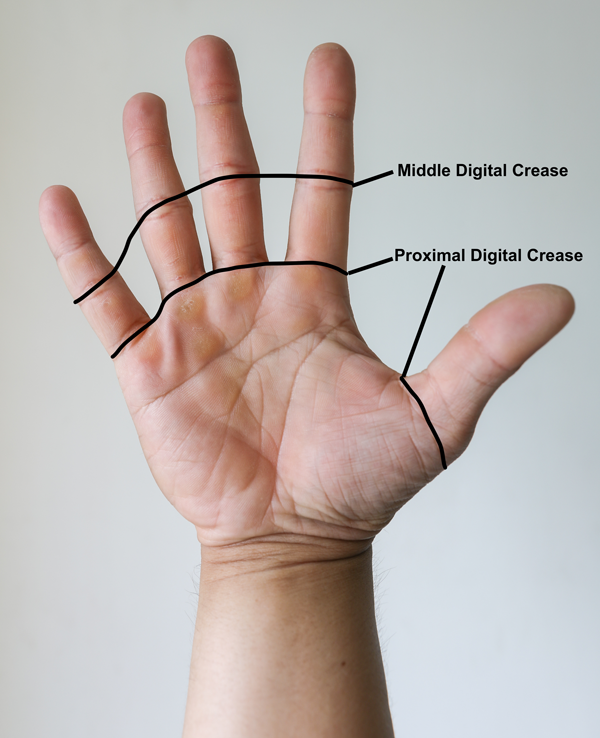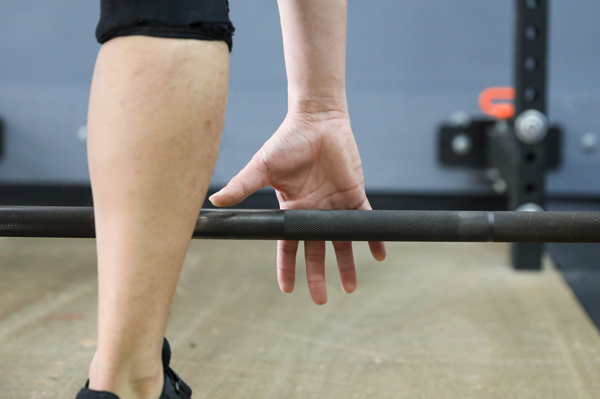 Now knowing that gloves don't help prevent calluses and that it makes holding on to the bar during heavy deadlifts harder, what should you do if you'd like your hands to remain soft, supple and callus free? Since the bar will end up in your fingers when you deadlift regardless of where it starts, placing the bar where it'll end up eventually is a good idea. The next time you deadlift, place the bar somewhere between the middle and proximal digital crease of your fingers (fig. 3, 4), grip the bar tightly and you're good to go.