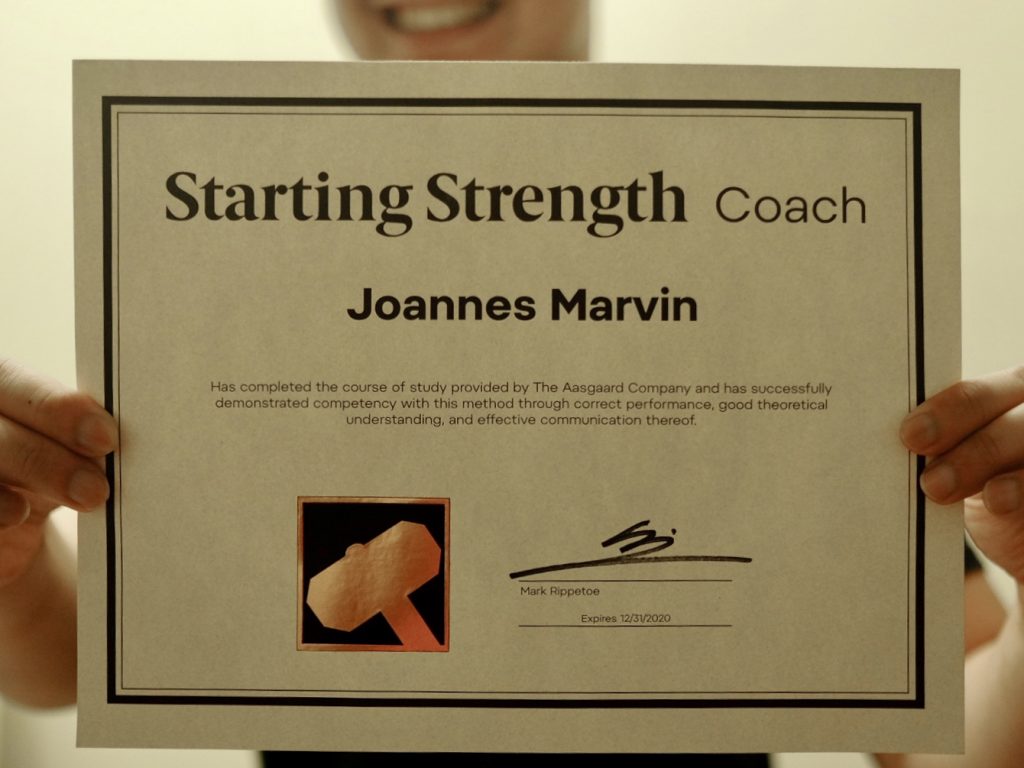 This article will be the final part of the series of documenting my journey to acquire the Starting Strength Coach certification, which is arguably the most prestigious credential in the strength training industry. I must admit that writing this last chapter was difficult because of the confidential information ­involved – I certainly don't want my certification to be nullified. Haha! I'll try my best to give as much valuable information as possible.
Passing coaching platform
As I landed in Singapore on Wednesday morning, the first thing I did was to open my email inbox. I received this email:
Marvin, 
Please see the attached evaluation sheet for feedback on your performance under the bar as a lifter and coach. Each section has notes from your SSS staff coaches to remind you of key issues relevant to your performance of each lift. Coaching is judged for each lift and then considered as pass/fail on an overall basis. Passing requires adequate performance on every lift, but we also look for patterns of strengths, weaknesses, and areas to improve. Please see that portion for our comments and for suggestions to make you a better coach over time. 
Congratulations on passing the platform evaluation! The next step in the Starting Strength Coach examination process is to schedule an oral board. Nick Soleyn and I will follow up with you in a separate email to get you scheduled. The examination will take about 2 hours, and we'll do it through an online meeting. 
Please respond back at your earliest convenience and let me know that you received this. And let me know if you have any questions at all.
The email kept me in suspense for one whole paragraph and I was so relieved to find out that I've passed the platform evaluation. Upon finding out that I've passed, I immediately informed Shaun about the good news. The day before, he told me that he had a strong feeling of me passing the platform from the email Rip sent to him. However, the decision is not in Rip's hand; it's in the hands of the five Starting Strength Staff Coaches in the seminar.
Having made some friend from the seminar, I contacted them to find out how they did. In the end, there were only two candidates who passed the Coaching Platform ­– myself and Cam. Cam is an uber-cool guy who happened to sit behind me during the seminar. He's also super strong, squatting something like 200kg for 3×5 and deadlifting 500pounds (or even more) during the weekend. Although we didn't talk much during the seminar, we became friends after going through a similar journey.
Next step: Oral Examination
The good thing about the new Oral Examination format is that you have a little extra time to prepare for the next test. Given the flexibility to choose from a few date and time slots, I chose the slot on Wednesday at 10 pm, after I was done with coaching for the day. The schedule provided was in US central time, so some time slots were very early mornings Singapore time. I avoided that because I might not sleep at all if it's at 4 or 5 am.
There are also sample questions given to us to have an understanding of the topic of the exam. Although I can't write it here, everything was straight forward and well covered in both the seminar and the book. It's vital to know where the panel of examiners are heading and give them direct and concise answers without being too general.
I suggest practising with someone who understands the topic and able to keep throwing questions to test every aspect of your understanding. If you don't have such a person around you, do it yourself and be critical to your own answers. Imagine you are sparring your thoughts against a very experienced lifter who happens to be a lawyer with a doctorate degree and teaching a few branches of sciences in a university. This imaginary person was the combination of my examiners. So, yeah, it'll be fun to see if you try to BS your answers. They will grill you alive!
The interview itself took two full hours. It reminded me of the time when I was defending my thesis to graduate from engineering school, but three times more intense and close to four times longer. I knew that I didn't do very well here. I was very nervous in the beginning and couldn't convey a few ideas fluently. There was also an instance where the panel dug deeper, and I couldn't give a satisfactory answer.
You also need your coaching experience to be successful in this interview. Some questions are practical. If you have handled a wider variety of lifters, you would be able to give better insights to those questions.
Finally, there are three possible outcomes of this Oral Examination: pass, fail, or written exam. After ten days of waiting, I was informed that I need to take the written assignment to ensure that my understanding is up to par with the strict requirement of Starting Strength. This email came as a major relief because I was sure that I shouldn't immediately pass with my interview performance.
Name: Joannes Marvin
Date of Exam: June 13, 2019
Result: Conditional Pass
Next Steps: Written Assignment
Notes from Examiners:
Overall, the examiners felt that you demonstrated a good understanding of the Starting Strength methods, models, and the science behind why we do what we do. There were, however, a few areas that they wanted to address in your exam.
Final step: Written Assignment
The deadline for the Written Assignment was one week. The questions were given along with the email above, and of course, I shouldn't disclose these questions.
The number of questions also varies depending on your performance in the Oral Examination. I received three questions, and Cam, also having Pass with Condition, received two. The topic is also slightly different, depending on the subject we need to improve during the Oral.
These questions are open-ended. You can write as little or as much as you want. That week, I wrote close to 13,000 words, 30 pages in Arial, font size 11, including some graphs. I thought I have written in as much detail as humanly possible. However, after I submitted my work and discussed it with Shaun, I realized that I still missed a few points that might be important.
So, my tip for this portion is to answer systematically. Create your answer step by step structured manner and spare no details in every step. Explain not only what by also why and how on each question.
I remember writing at every chance I had: in between coaching sessions while eating and even through the night to finish writing. I set small deadlines for that whole week. I could only use six days to do it because I was out of town when I received the questions. The first two questions were more complex, so I set two days each and one day for the last question. The sixth day was only for final proofreading and making small changes.
Result of 18 months of work
After submitting my Written Assignment, all I could do was to wait patiently. I think I waited close to two weeks before the good news came. I read the email at about 5:00 am, checking the clock after coming back from the loo.
The first email I read says that I have been invited to a Slack workspace. At first, I thought it was just spam, but it mentioned Starting Strength Coach. So, I immediately went to view my inbox, and the official acceptance letter was already there! I immediately woke Isabela up. We jumped around for 5 minutes and went back to sleep.
I received many congratulations from many people that day, from people in the gym to the members of the Coach Prep Course. What's cool is that Stef Bradford was the first one who congratulated me. In case you are not familiar with Stef, she is also the author and editor of the Starting Strength: Basic Barbell Training, 3rd edition. She is also the person who runs the Coach Prep Course.

Being an SSC
To finally get the SSC credential, especially on the first try, means a great deal for me personally. It took me a huge leap of faith in myself to quit a well paying stable full-time job and start again with almost zero dollars in a brand new industry.
Several friends and acquaintances said they admire how I "followed my passion." Still, I don't think my decision was not solely based on passion. Yes, I love what I do, but I also see great value and demand for strength training.
I believe the value of getting the SSC credential to me is not only the recognition and the amount of business it brings to the table. Getting the certification pushes me to learn and be a better coach and reach a certain professional standard. Considering the standard was first determined by Rip, it's not an easy one. To get better and better until deemed able to fulfill this benchmark benefits my clients. They know when they walk through Hygieia's door, they will get proper coaching.
Being part of the Starting Strength platform allows me to know many intelligent men and women who are also Starting Strength Coaches. I once had difficulty in helping a client, and an SSC in New York helped me with her approach. This is just a simple example of support and connection that I couldn't get otherwise.
If you are still deciding whether it's worth acquiring, the answer is always a yes! It might be hard, but it will be worth your effort.
As always, feel free to contact me if you want to have further discussion.
At last! It has almost been a year since then! All these wouldn't come true if I have not been blessed with the people around me. So a special thank you to my great mentor Shaun, the kind people of Hygiea Strength and Conditioning, and my lovely and supportive wife, Isabela.
I wish you luck on your journey!