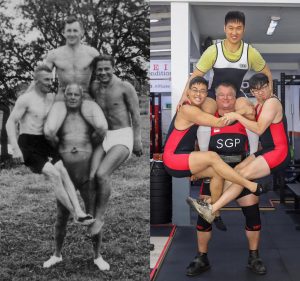 You've been training for a while, and you noticed how much you've progressed. Your numbers have indeed been going up, but are you strong enough? You decided to go on the internet to seek validation and check whether it has certified you as being STRONG!
2X bodyweight squat, 2.5X bodyweight deadlift, 1.5X bodyweight benchpress? The 1000lbs total club? Or maybe strong enough to join the Starting Strength Baseline Level of Strength Club – 200lbs press, 300lbs bench press, 400lbs squat, 500lbs deadlift?
Do a quick search online and you'll find various strength standards. Which one to follow? You may find a more "sophisticated" one that appeals to you, one that categorises you as "untrained," "novice," "intermediate", "advanced", or "elite". Are there any definitive guidelines to know whether or not you are strong enough?
I implore you to ignore these strength standards and instead think about why you started strength training in the first place.
Scenario A: I am training due to a medical condition(s) 
Let's say you're in your 60s, and have both osteoporosis and sarcopenia (which is pretty common). You train so that your bones get denser – you very much want to get out of the osteoporosis/osteopenia range. At the same time, you want to develop more muscle mass and get stronger so that you can perform your daily activities and prevent yourself from falling.
After a few months of training, you feel healthier and generally better. When you go for your bone density scan the following year, the results tell you that you're no longer osteoporotic. You achieved your goals!
In the theoretical sense, YES, you are now strong enough to conquer the problem that got you into training in the first place! Congratulations!
Scenario 2: I am training because I am weak, have aches/pains, and I am afraid to do certain tasks at the risk of injury
We often have clients that start training because of these reasons. Some complain that they can't do a particular task anymore without any help. For example, some can't get up off the floor without holding on to something or someone or they're afraid of playing with their kids for fear of injuring hurting their back…again.
Like the first group (sometimes these two groups overlap),  they'll also feel the benefit of strength pretty quickly. After a few weeks or months, they can get up off the floor on their own; they can teach their children to ride a bicycle or carry them up and run around without experiencing any back pain thereafter. These examples may seem trivial, but to our clients, the ability to do these activities easily without suffering from any aches and pains thereafter is life-changing – it feels to them that they got their youth, freedom and independence returned to them.
What do you want to achieve now that you're free from your nagging back pain, osteoporosis or sarcopenia? Now that you don't fear injuring yourself doing daily physical activities, don't you want to enjoy more of your life?
If the answer is yes, then maybe you should be a little stronger. Maybe to be strong enough to hike a more challenging nature trail in your city? Or possibly fulfil your bucket list of climbing a mountain?
I realised that the stronger you are, the more it allows you to be more adventurous, trying more thrilling (read: stupid) stuff such as the photo above without getting injured.
Scenario 3: I have been enjoying the training process, or I am looking forward to improving my performance in sports
By now, you should already know the answer. If you love the training process and are excited by the thought of getting even stronger than you are now, you'll understand that being strong enough is a neverending experience – it's just a really satisfying feeling to have a bit more.
It's true, like all things in life, it follows the economic principle of diminishing returns. As you become stronger, the effort and time it takes to get even stronger increases, but you learn to treasure the hard work in achieving your goals. After all, as Rippetoe said, "humans are not physically normal in the absence of hard physical effort."
So let me close this by quoting Rip again.
"A weak man is not as happy as that same man would be if he were strong."
― Mark Rippetoe
So no matter where you are now, be a slightly stronger version of yourself.